October 1 2021 - November 27 2021
Gerasimos Floratos, Untitled, 2021
Uman (left) & Gerasimos Floratos (right), installation view Heliotropic
Installation view Heliotropic, 2021
Installation view Heliotropic, 2021
Installation view Heliotropic, 2021
Uman, Lady with Blue Hair and Red Dress, 2019-21
Installation view Heliotropic, 2021
Gerasimos Floratos, installation view Heliotropic, 2021
Installation view Heliotropic, 2021
Uman, Green Moss Lady, 2020-2021
Uman, Trying to get likes, 2021
Installation view Heliotropic, 2021
Installation view Heliotropic, 2021
Gerasimos Floratos, Untitled, 2021, Oil and acrylic on canvas, 122 x 122 cm (48 x 48 inches)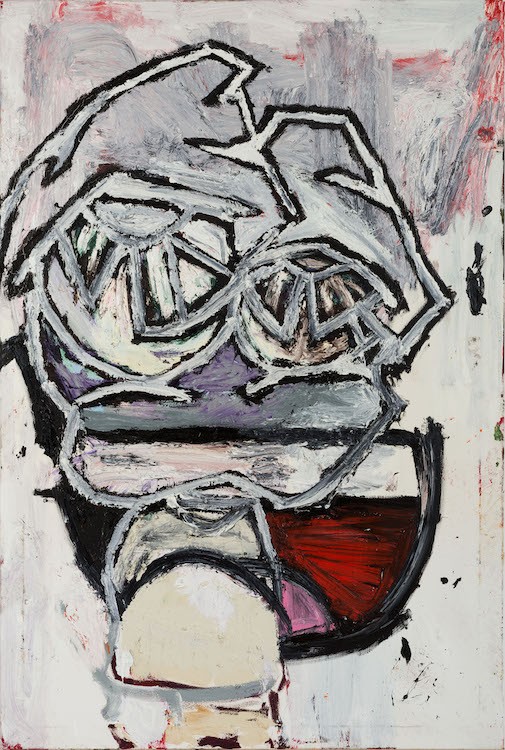 Gerasimos Floratos, Ruff Circuit, 2021, Oil and acrylic on canvas, 183 x 122 cm (72 x 48 inches)
Uman, Lady with Blue Hair and Red Dress, 2019-2021, Oil on canvas, 183 x 183 cm (72 x 72 inches)
Uman, Trying to get likes, 2021, Oil on canvas, 213 x 213 cm (84 x 84 inches)
Gerasimos Floratos, Cringle, 2021, Oil on canvas, 153 x 153 cm (60 x 60 inches)
Uman, Cow painting, 2021, Oil on canvas, 183 x 183 cm (72 x 72 inches)
Gerasimos Floratos, Scorpic Radiation, 2021, Oil and acrylic on canvas, 153 x 153 cm (60 x 60 inches)
Uman, Green moss lady, 2021, Oil on canvas, 183 x 183 cm (72 x 72 inches)
Gerasimos Floratos, Untitled, Oil and acrylic on canvas, 122 x 153 cm (48 x 60 inches)
Uman, Green painting, 2021, Oil on canvas, 153 x 153 cm (60 x 60 inches)
Opening reception: Friday 1 October, 12-9 p.m.
Eleni Koroneou Gallery is pleased to announce the two-person show Heliotropic, featuring works by Gerasimos Floratos and Uman. The title of the show draws inspiration from the continuous search for growth in the artists' lives, fuelled by the absorption of energy from their respective environments. Both the artists are self-taught and have developed their own organic language throughout the past years.
Gerasimos Floratos returns to the gallery after his 2018 exhibition, featuring large-scale paintings and a group of works on paper. His expressive paintings, a psycho-geographic memoir of shared spaces, incorporate various elements derived from his immediate surroundings and encounters of life in the artist's hometown neighbourhood of Times Square. The artist works with heavily applied colour using bold mark making by oil stick and his own hands, combined with found collage elements to depict autobiographical characters and animal-like creatures that occupy his canvases.
Uman is a multi-disciplinary artist, born in Somalia and raised in Kenya. Since 2004 she's been based in the United States. Her rich cultural experience often manifests in shapes and colours that poetically assemble on her canvases. Autobiographical figures and folk elements quickly transform themselves into abstract shapes and vibrant colours, where identity and form remain fluid. Alongside her African roots, Uman is directly influenced by the seasonal changes of the rural New York landscape in which she lives and works, while exploring the psychological states these shifts bring about. For the show, she is presenting large-scale paintings with a selection of works on paper.
Gerasimos Floratos (b. 1986, New York, NY). Lives and works in New York, NY. Selected solo shows include: Nodes, Pilar Corrias, London (2020); Psychogeography, Almine Rech, Paris (2020); Bismuth, Mitchell-Innes & Nash, New York (2020); There's a sidewalk inside this gut, Tanya Leighton Gallery, Berlin (2019); 1977, Eleni Koroneou Gallery, Athens (2018); Slangwich Motel, Schloss, Oslo (2018); Big Town, Pilar Corrias Gallery, London (2016); White Columns, New York (2016). Recent group exhibitions include: Different Strokes, Almine Rech, London (2021); Good Luck, Shrine, New York (2020); Artists I Steal From, Galerie Thaddaeus Ropac, London (2020).
Uman (b. 1980, Somalia) Lives and works in Upstate NY. Selected solo shows include: I hope this finds u well, Fierman Gallery, NY (2021); I will sit here and wait for you, Fierman Gallery, New York (2019); The Universe, Galerie Anne de Villepoix, Paris (2017); Uman: 35 years a Black Sheep, Louis B. James Gallery, New York (2016); and White Columns, New York (2015). Recent group exhibitions include: The Earth, That is Sufficient, Nicola Vassell, New York (2021); Human Scale, Rochester Art Center, Minnesota (2020); (Nothing but) Flowers, Karma, New York (2020).