Nel Aerts
Inner Wavy Turmoil Baby
October 9 2020 - December 19 2020
"Inner Wavy Turmoil Baby", installation view
"Inner Wavy, Turmoil Baby", installation view
"Inner Wavy, Turmoil Baby", installation view
"Inner Wavy, Turmoil Baby", installation view
"Inner Wavy, Turmoil Baby", installation view
"Inner Wavy, Turmoil Baby", installation view
"Inner Wavy, Turmoil Baby", installation view
"Inner Wavy, Turmoil Baby", installation view
"Inner Wavy, Turmoil Baby", installation view
"Inner Wavy, Turmoil Baby", installation view
"Inner Wavy, Turmoil Baby", installation view
"Inner Wavy, Turmoil Baby", installation view
Farewell Old Champ, 2015 - 2019, Acrylic, filler and coloured pencil on wood in artist-made frame, 125 x 97 cm
Splits (Stage Fright), 2015 - 2020, Paper, acrylic, spray paint, pastel, ballpoint pen, glitter and coloured pencil on wood in artist-made frame, 45.5 x 33 cm
Dubious Conversations, 2019, Acrylic and graphite on wood, 84.5 x 55 cm
Trauma Trucker, 2012 - 2020, Lacquer, oil, sequins and spray paint on wood, 32.5 x 33.5 cm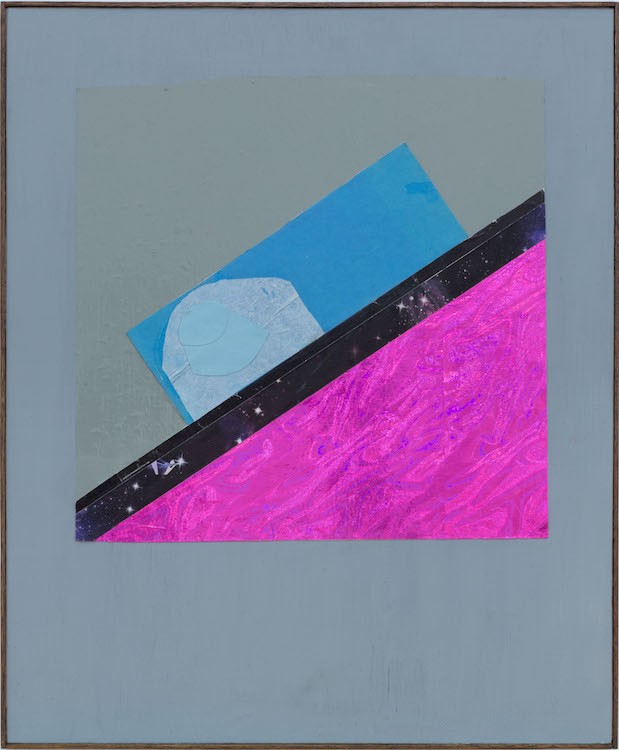 Downhill (Again), 2020, Collage on acrylic painted wood in artist-made frame, 66 x 54.5 cm
The Snake Charmer 's Never Ending After Party, 2020, Oil stick, oil pastel and sequins on paper on wood in artist-made frame, 63 x 53 cm
The Invisible One Sees It All, 2020, Acrylic and paper on wood, 62.5 x 53 cm
Turmoil Mind Fucker, 2020, Acrylic, oil stick, pastel, varnish and paper on canvas in artist-made frame, 144 x 124 cm
Delirium Portrait, 2020, Acrylic, pastel, spray paint, coloured pencil, sequins, varnish on wood, 71 x 57.5 cm
The Last Wanderer On Earth, 2020, Pastel and oil stick on paper on wood in artist- made frame, 104 x 74.5 cm
Playing House (Nel '11), 2010 - 2020, Acrylic, ecoline, filler on wood, 45 x 36.5 cm
Drama Wave, 2020, Acrylic, oil stick, filler and ecoline on wood, 78.5 x 76 cm
Vrees [Awe], 2020, Acrylic and oil stick on wood in artist-made frame, 40.7 x 27 cm
The Calm Before The Storm, 2020, Collage with oil stick and acrylic in artist made frame, 48.5 x 50.5 cm
The Bar Hopper And Her Magic Carpet, 2015 - 2020, Acrylic, filler and oil sticks on wood in artist-made frame, 126 x 98.5 cm
The Dust Settles, 2020, Collage on acrylic and oil painted wood, 36 x 45 cm
Esoteric Eyeballer, 2020, Acrylic, oil sticks and spray paint on wood in artist-made frame, 77.5 x 72.5 cm
Bums Up, 2013 - 2020, Watercolor, coloured pencil, oil stick, oil pastel on paper on wood, 45 x 36 cm
Eleni Koroneou Gallery is pleased to present the first solo show of the Belgian artist Nel Aerts, tilted Inner Wavy Turmoil Baby. The title of the show refers to the inner turmoil that finds its way through artistic creation and at the same time is a playful connotation to the inner turmoil that most of us have been experiencing during these unprecedented times.
 
The show is comprised of larger and smaller paintings on wooden panels and collages, combined with some earlier works that Aerts has revisited and reworked. Tragic characters alternate with fallen angels and snake charmers express their emotions and sometimes confront the viewer by looking him/her directly in the eyes. A frighten figure is doing a split on stage while another figure (aka the Bar Hopper) is sitting on a flying carpet drinking wine and smoking. All these could be seen as Aerts' alter ego's, in a dreamy world that might appear poetic and innocent, but is simultaneously absurd and grotesque.
 
Working on wooden panels, scratchings and cutouts become very important elements in the surface of her paintings. Aerts is fascinated by the idea of trial and error, little flaws and the thin line where a small addition can change the course or intended route with the possible outcome of failure and not success.
 
Along with the paintings and the collages, six seating objects fill the gallery space. Those stools are custom-made and completely functional for the viewer to sit on them. In addition, a chain connects each one of these stools to a clipboard with a unique drawing, made with the use of a pyrography machine. The viewer is invited to tear off a piece of paper and make a rubbing of the burned out drawing. 
Nel Aerts (1987, Turnhout, BE) is working in different media as painting, drawing, collage, sculpture, film and performance. In 2019, she had her first institutional shows in Germany at the Westfälischer Kunstverein, Münster and at the Kunsthalle Lingen as well as at Museum M, Leuven in Belgium. Previously she had solo and duo exhibitions at Kunsthalle Charlottenborg, Copenhagen; Carl Freedman Gallery, London and Margate; Plus-one Gallery, Antwerp; Galleri SPECTA, Copenhagen; Horizont Gallery, Budapest; and KIOSK, Ghent. Her work was also shown in group exhibitions such as In Vitro, MuHKA - Museum of Contemporary Art Antwerp, Antwerp; Europe, Europe (curated by Hans Ulrich Obrist, Thomas Boutoux and Gunnar B. Kvaran) at Astrup Fearnley Museet, Oslo; Season of the Which (curated by Marie de Gaulejac) at Castillo/Corrales, Paris; Salon der Angst (curated by Nicolaus Schafhausen & Cathérine Hug) at Kunsthalle, Vienna; Un-Scene II (curated by Elena Filipovic & Anne-Claire Schmitz) at WIELS, Brussels; De Vierkantigste Rechthoek (curated by Tom Barman) at Kunsthal KAdE, Amersfoort; MOTinternational, Brussels; Gladstone Gallery, Brussels; and Kunsthalle Charlottenborg, Copenhagen.